We are independent, systematic, with a rational but flexible approach.
Altereko is highly qualified to provide consultancy and training in the field of solid waste management going beyond the purely technical aspects, having acquired considerable experience in the evaluation of institutional, socio-economic issues and in topics related to producers/consumers. We work with passion and enthusiasm for finding sustainable solutions for the collection, transport and recycling of municipal (solid) waste that place material recycling at the center of our strategies.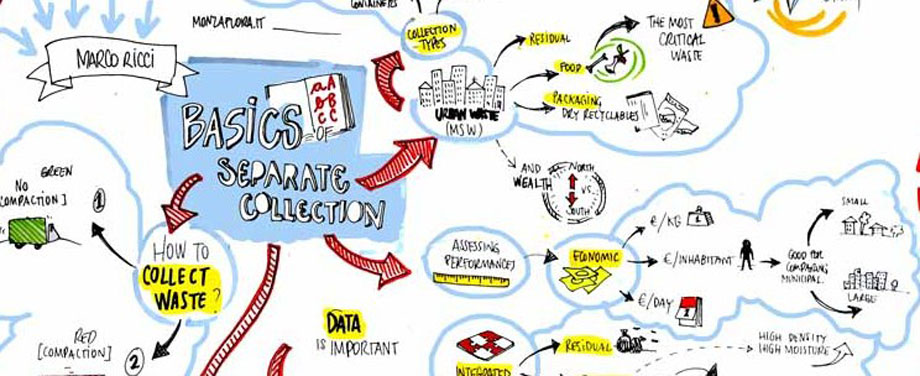 Altereko was founded by Marco Ricci, with more than 27 years of experience in MSW management planning, design and improvement of separate collection and transport schemes, analysis of recovery plants (focus on composting), planning of communication and awareness initiatives, management of multi-lingual workgroups engaged in multi-tasking projects. We have over 17 years of international experience as a technical reference or solid waste management consultant. Extensive experience in consultancy on the definition of Strategies and Policies, Waste Tax/Tariff, Separate collection systems, both in "high" and "low" income countries in Europe, Latin America and Asia. We can prove over 14 years of experience in collaboration with international organisations/agencies (e.g. ECN-European Compost Network, ACRR, EEA-European Environment Agency, Sweepnet-GIZ, CCAC-UN, ISWA, FAO).
Title and qualifications
Marco Ricci, technical manager of Altereko sas, is:
International Solid Waste Manager, accredited by ISWA (International Solid Waste Association). Vice-Chair of the ISWA Working Group on biological waste treatment of waste,
Member of the Technical-Scientific Committee of Ecomondo international fair and
Senior-Expert of the Italian Compost and Biogas Association (CIC)
Contracts for technical teaching
Marco Ricci has been contracted as teacher at:
University of Catania (area: Solid Waste Management, Course title: Collection and Sorting Systems)
LUISS – Rome (Executive Master in Circular Economy)
University of Bologna (Spring SCHOOL" how to design solutions for solid WASTE MANAGEMENT")
University of Gastronomic Sciences (Pollenzo-IT) – Seminar on "Compostable food packaging"
Altereko sas di Ricci M. & Co.
CF e PIVA: 04309340232 Numero REA VR – 409348
address
via Boccioni n°2, 37131 Verona, Italy
Linkedin
it.linkedin.com/in/riccieco